West Allis, Wisconsin Root River Flooding
I have added an incorrect chart for 100 year flood levels and house elevations that came from a stakeholders meeting.
It finally happened in 2003, almost 10 years after the first meeting we attended, we are out. The last day we had posession of the house was 9/30/2003.
The purpose of this site is to document floods (flash floods of a few hours) of the Root River in the City of West Allis. MMSD decided to try and fix the flooding problem, since no one else would. The first meeting that I attended was in 1992 the consultant wanted to widen the channel and take everyone off the flood plain. Later the DNR blocked that idea. Then a different consultant pushed a bunch approaches one of which was buy out.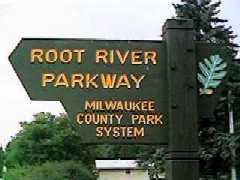 A general note, most of the images are links to larger version of the pictures. I've tried to optimize the pictures for 28.8 Kb modem connections to the web. This site was first made during the days of the dialup, if cable modem becomes the standard over the next few years I might put the high-res versions of these pictures on this site.